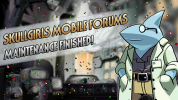 ​
And we're back!
If there's any issues with the new upgraded forum, please let us know so we can investigate!
-------------------------
Original Post:
The forums will be going down for maintenance on January 12. We'll get them back up as soon as possible, but expect the maintenance to last around 48 hours.
Keep an eye on our social media pages for updates:
Twitter:
https://twitter.com/sgmobile
Instagram:
https://www.instagram.com/skullgirlsmobile/
Facebook:
https://www.facebook.com/skullgirlsmobile
Last edited: