Joined

Oct 24, 2019
Messages

276
Reaction score

596
Points

93
Starting earlier today, I've had multiple mid-battle crashes during Prize Fights. It started after I got a specific Ad for the first time ever, which also crashed mid-advertisement. Almost all other times I've gotten this Ad (or another Ad for this game) it's caused a game crash, and it seems to be a problem with these Ads only since I've seen other Ads since with no problems.
After the first time I got this Ad, my game crashed within the next 5-10 battles, which was the first time it's ever crashed like that this update. Every other time I've gotten this Ad, a mid-battle crash follows soon after, even if I restart the app to try and prevent it. Once is happenstance, twice is coincidence, thrice is a pattern, yada, yada. I don't know what 5 times is, but it's certainly Not Good™.
The Ad responsible: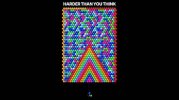 The crash accompanies another issue with the advertiser's UI overlay not loading in properly, so I can't even tell which service is hosting it. The one time it didn't crash (out of the 5 times I've had this Ad) was when the UI loaded successfully, and it's the one host that has the green download button in the bottom right, and the end screen with the X shows the game being advertised on the left, with a white box and a jumping green download button on the right.
I haven't had any mid-fight problems like these before today, so I *think* it might be an issue with a bad Ad that showed up once it was placed into rotation in the Viewing Parlor. Maybe the mid-Ad crash is causing the game to improperly deallocate the RAM the Ad takes up or something, I don't know. For now, I've fully restarted my phone (which I'm hoping cleaned out any lasting gunk from the memory) and am going to be avoiding the Viewing Parlor for the time being. If I still end up with mid-battle crashes I'll report back soon.