Joined

Feb 4, 2018
Messages

498
Reaction score

1,477
Points

93
PRESTIGE ABILITIES

​
SGM Twitter (https://twitter.com/sgmobile) info first:
Coming soon in 4.9: PRESTIGE ABILITIES! Prestige Abilities add new mechanics to every Fighter that will radically change how you approach each battle. Unlock and upgrade these powerful new skills on your Fighters by sacrificing their Duplicates!
Each Prestige Ability has unique requirements to charge it during combat. Once fully charged, tap your character portrait to activate it and bring the pain! Can you guess what Valentine's PA does and how to charge it?
The level a Prestige Ability increases is based on the natural tier of the Fighter being sacrificed. Natural Bronzes only grant 2 levels, but Natural Diamonds grant 20 levels! While PAs do gain strength as they level up, just unlocking a PA is a powerful upgrade!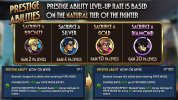 Evolution has no affect on Prestige Abilities. A Bronze that has been evolved to a Gold will still grant the same amount of PA Levels.
PS: While Prestige Abilities do increase Fighter Score, they do not increase your Fighter's stats.
Soon there will be a new system to make use of your duplicate Fighters! In addition, sacrificing Fighters will grant ALL the remaining Skill Points that Fighter would normally gain through leveling up. No need to level up unwanted Fighters just to squeeze out extra SP!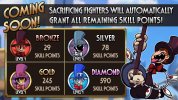 - - - - - - - - - - - - - - - - - - - - - - - - - - - - - - - - - - - - - - - - - - - - - - - - - - - - - - - -
Got all that?
Twitter is the usual rollercoaster of emotions: some high praise and some doom & gloom. Some are panicked, believing this to be a new unfair era of pay-to-win. Others think this is a much-needed expansion for late-game players with shelves full of dusty dupes. What do you think of Prestige Abilities?
Last edited: