Hello everyone! We have another update on the way!
We know you're all clamoring for the 2.6 update, but unfortunately it's not ready
just
yet. Ms. Fortune is by
far
the most complicated character that we have implemented thus far, so she's taken a little bit longer than usual. Once you play Ms. Fortune in 2.6, we're confident you'll agree it was worth the wait!
Given QA, App Store submissions and release processes, we're currently targeting
the week of September 24th
for release. We'll have more updates as we get closer to that date!
9/25/18 UPDATE


New updates and changes have been posted below in this color!

The update has been submitted and approved for release, and now we're just waiting for the update to process in the App Store so that it is available. It's likely we will be releasing today (25th) but that's not 100% guaranteed.

Thanks for your patience!
NEW CHARACTER - Ms. Fortune!

​
A feline feral, Nadia Fortune is the last surviving member of the Fishbone Gang, a notorious band of otherwise Dagonian thieves. Their last mission ended in tragedy: a failed attempt to steal the mysterious Life Gem from Lorenzo Medici resulted in their grisly deaths. Before meeting her own doom, Ms. Fortune swallowed the Life Gem and managed to digest it. The Gem's power permeated her entire body, making it truly undying… even after being cut into several pieces.

Now hiding in the shadows of Little Innsmouth, Ms. Fortune plots to avenge her fallen comrades.​
​
GAMEPLAY OVERVIEW
"The bigger they are, the harder they fall!"
One of Ms Fortune's greatest strengths is her ability to dish out massive amounts of unprecedented burst damage. Damage based on max health, guaranteed critical hits, bonus critical hit damage, bleed, debuffs triggering more debuffs, she's got it all!
Ms. Fortune also features unique cancel logic, allowing some of her Blockbusters, Special Moves, and even her Character Ability activation to link into one another in interesting ways. Did someone say air Blockbuster...?
Oh, the thing with her head - she does that too.
CHARACTER ABILITY - HEAD GAMES
After MUCH iteration (like a seriously outrageous number of meetings), we finally landed on the perfect control scheme that captures what makes Ms. Fortune so unique in her Skullgirls 2nd Encore implementation. We really hope you'll enjoy her Character Ability as much as we do!
After unlocking Ms. Fortune's Character Ability, you can "bowl" her head by activating the Character Ability button in the lower left.
Afterwards, her head will remain detached, and new "head control" options will be available to you on the HUD.
Tapping these four buttons will do different things.
RECALL - Hold to recall the head back towards the body, attempting to reattach it.
ZOOM - A head attack that covers a long distance and knocks the opponent off their feet.
HEADBUTT - A quick head attack that covers a shorter distance but leaves the opponent standing. When used more than once in a combo, the second HEADBUTT will knock the opponent off their feet.
FELINE ALLERGIES - A head attack that launches itself into the air, and also launches opponents that are nearby. This head attack cannot be interrupted once it starts. Can be activated even during HEADBUTT and ZOOM!
These head commands can be issued at (almost) any time, so get creative with your gameplan and combos - it's
puppet character
time!
Curious to see MORE of Ms. Fortune in action? Check out this article from Touch Arcade which features another awesome gameplay video!
NEW MS. FORTUNE FIGHTERS
Want to know what CRAZY Signature Abilities you can expect from each of these fighters? Stay tuned to our
Twitter
,
Facebook
, and
Instagram
accounts in the coming days!
MS. FORTUNE DIZZY & INTRO ANIMATIONS
Unlike our previous new character releases, Ms. Fortune will not have any new intro animations in our 2.6 update. They will be added at a later date. Her (brand new!) Dizzy animation however, will be fully functional.
HOW DO I GET MS. FORTUNE?

All seven Ms. Fortune Fighters will be available via the Schrödinger Relic, which will be available in the Relic Store when her Prize Fight is live (9/27/18 - 9/29/18).

You can also try your luck at finding her in ANY RELIC that supports random Fighters. This includes Premiere Relics, Silver Lining Relics, Gold Relics, Silver Lining Relics, you name it!

We will be also be making Fighter Variety Packs (including Ms. Fortune Relics) available for all users this week (until 9/30/18)!
NEW DAILY EVENT AND PRIZE FIGHT
Ms. Fortune's first Prize Fight -
A HEAD OF THE GAME
will be arriving soon after 2.6.0 is released. Her Daily Event
CATURDAY NIGHT FEVER
will be available - you guessed it - every
Tuesday
.
(just kitten -- it's every
SATURDAY
)
As always, expect the first Character Prize Fight for Ms. Fortune to be VERY competitive. Best of luck to anyone aiming for Top 10%!
NEW MODIFIERS
A number of Ms Fortune's Moves, Blockbusters, and Signature Abilities will feature
two brand new modifiers
:
PRECISION
PRECISION
is a buff that will consume one stack on hit to guarantee a CRITICAL HIT. This critical hit will also ignore "defensive" Signature Abilities and prevent them from activating entirely! That means no Dread Locks damage reflection, no stun activation chance from Resonant Evil, and no unflinching from Armed Forces/Untouchable!
DEATH MARK
An opponent suffering from
DEATH MARK
will have their BLOCK PROFICIENCY reduced, which means that they take more damage than usual while blocking. In addition to this effect, they will
also
receive bonus critical damage from CRITICAL HITS.
NEW APP ICON

To celebrate Ms. Fortune's release, we're also changing our app icon!
We're rolling the dice with an icon featuring a floating head screaming to the right! Fingers crossed!
INCREASE FIGHTER AND MOVE CAPACITY
You can now spend Theonite to increase your Move and Fighter capacity! Keep an eye out for the "+" icon towards the very end of your collection. You will also be prompted to expand your collection if you try to open a Relic while your Fighters or Moves are maxed out.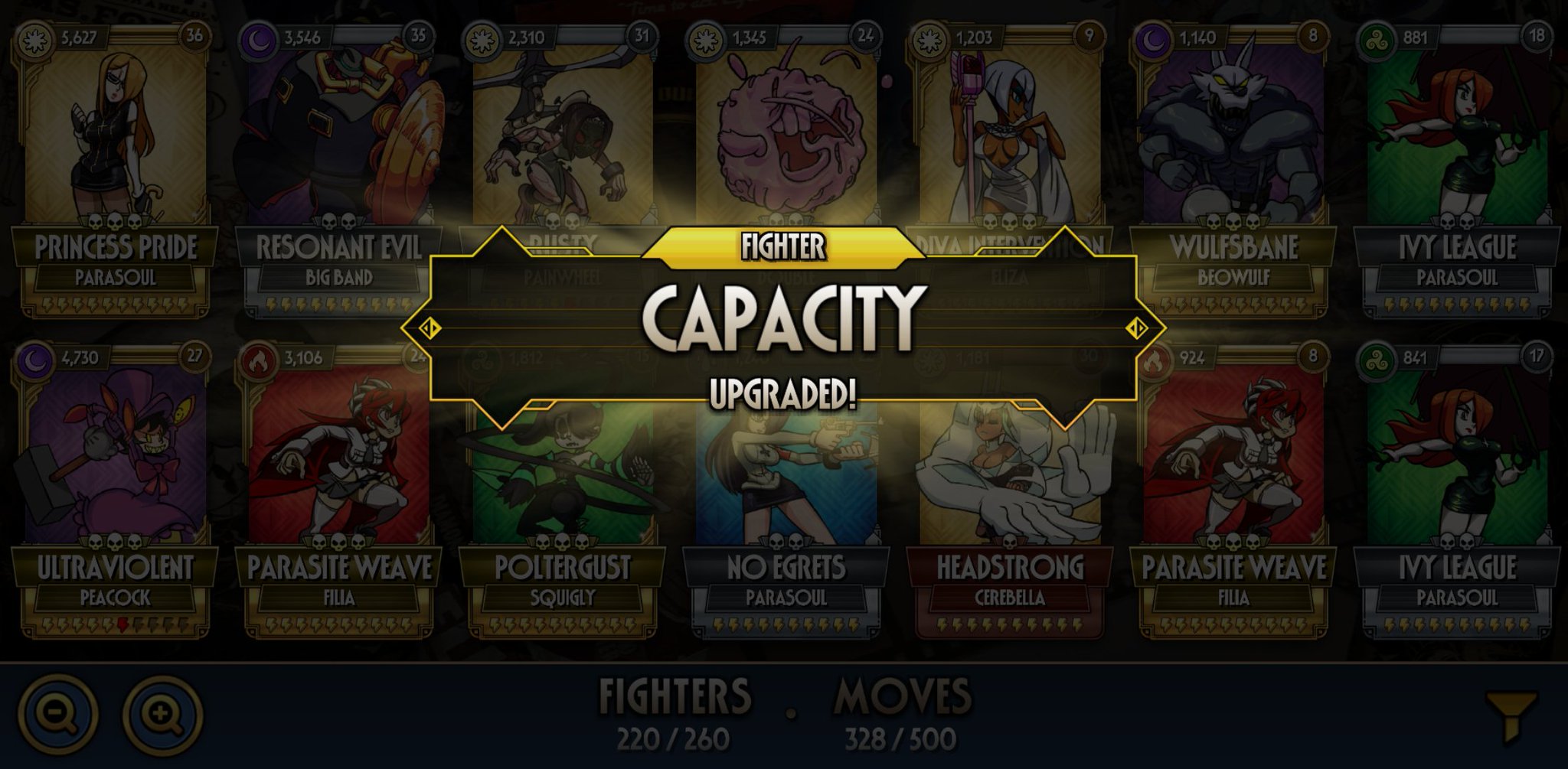 AI BB3 LOGIC CHANGES
After plenty of feedback and discussion, we'll be implementing new AI BB3 logic which will offer new strategies to counter their activation.
Here's how it works!
The AI will only consider using a BB3 if you have been HIT, or you are BLOCKING A HIT.
Note that the chance for which the AI will activate BB3s is dramatically increased when you are blocking a hit compared to being hit directly. What does this mean for gameplay? Here are some key highlights:
- A true universal counter play now exists against BB3s from the AI: Don't get touched!
- "Turtling" behind your block is much less effective.
- Proactive players who bring the fight to their opponent will be considerably less likely to be hit by BB3s.
- No more BB3 activation from fullscreen before you have a chance to do something.
- NO MORE BB3 ACTIVATIONS FROM FULLSCREEN BEFORE YOU HAVE A CHANCE TO DO SOMETHING.
So... be proactive! The first skill that you should practice is "INTERCEPTING", which is hitting the opponent out of their dash when they attempt to attack you. For some examples, check out our earlier Tweet here:
https://twitter.com/sgmobile/status/1038226291361701888
Blockbusters and invincible Special Moves are great tools for beginners to use when attempting this technique. As you get more skilled, you can attempt to intercept using Launchers or Light attacks, saving your Blockbusters and Special Moves for the combos to come.
Save your blockbuster throws for key moments when your opponent gets full BB3 meter. Save your normal throws for after the AI has full BB3 meter so they are less likely to break them. Find new ways to safely attack your opponent from a distance, or up close. Reliably activate ARMOR beforehand to prevent most of the damage... You get the idea...
We're looking forward to seeing the impact of this change. As always, let us know what you think!
"ONCE PER COMBO" MOVE LOGIC
As many of you know, there have been a number of sneaky infinite combos that have existed for quite some time that use multiple Blockbusters or Special Moves in combination with increased cooldown reduction, or increased meter gain. As we work on our new 1v1 async competitive mode (
mentioned in our last update notes
) and continue to build towards future Sync PvP, we want to make sure that clear exploits like this which prevent the opponent from ever playing again are kept to a minimum (if not eliminated entirely).
As such, in 2.6, you cannot use a Move in the same combo that it was activated in. Once the combo is finished, you can use the SM/BB again, but otherwise - even if the SM cooldown is complete or the BB is at full meter - it will remain grayed out until the combo counter fully vanishes. This rule also applies for the opponent.
Note that you can use the same Special Move multiple times in one combo, as long as you equip it more than once. Ex: Two "Drag 'n Bite" Special Moves on Squigly, or two Napalm Shot special moves on Parasoul. Each Move tracks its own usage separately.
While this may impact a handful of combos that some players have been using, for most players the impact of this should be minimal. We think this change will keep combos as fun and flexible as possible while removing the parts that are exploited.
MORE RELIABLE BLOCKED COMBO PUNISHING
Through feedback and play testing, we identified an unintended issue where the AI would occasionally cancel their L5 (the final hit of their ground combo string) into a Blockbuster as soon as you attempted to punish them when it was blocked. We've all gleefully attempted to punish Valentine or Cerebella after blocking their combo, only to be rewarded with a point blank
Countervenom
or
Diamonds are Forever
for our troubles.
Not like this. Not like this...​
To fix this, we've made a global change to all characters (both the player, and the AI) that prevents them from canceling their L5 into a Move unless that L5
HITS the opponent.

You should feel much more comfortable punishing a blocked L5 safely with these changes. In addition to this, Cerebella and Big Band had their L5 recovery slightly increased.
POWER UP - EARNED XP BONUS
Previously, the total experience and level of a Fighter was ignored when using the Power-Up feature, and the amount of experience granted was a flat rate. As of 2.6, a sacrificed Fighter will grant
a portion of their total earned experience
to the character they are being sacrificed to!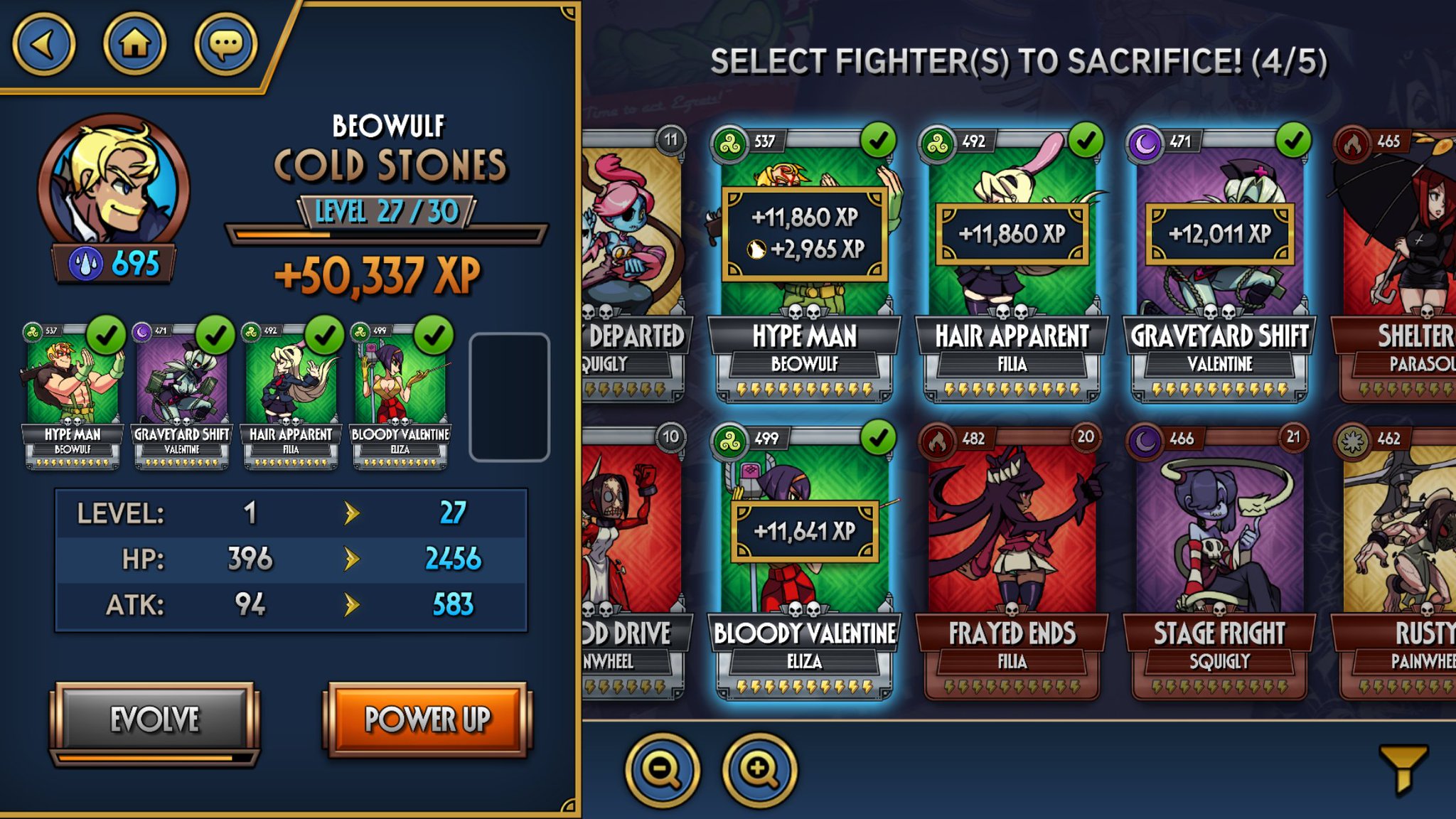 Sacrificing your unwanted Fighters is a fast way to get the newest Fighters in your collection up to speed as you earn them - you'll also receive the Skill Points earned from their leveling!
SET PROFILE "AVATAR" FIGHTER
You can now manually set the Fighter that appears as your avatar on your profile screen: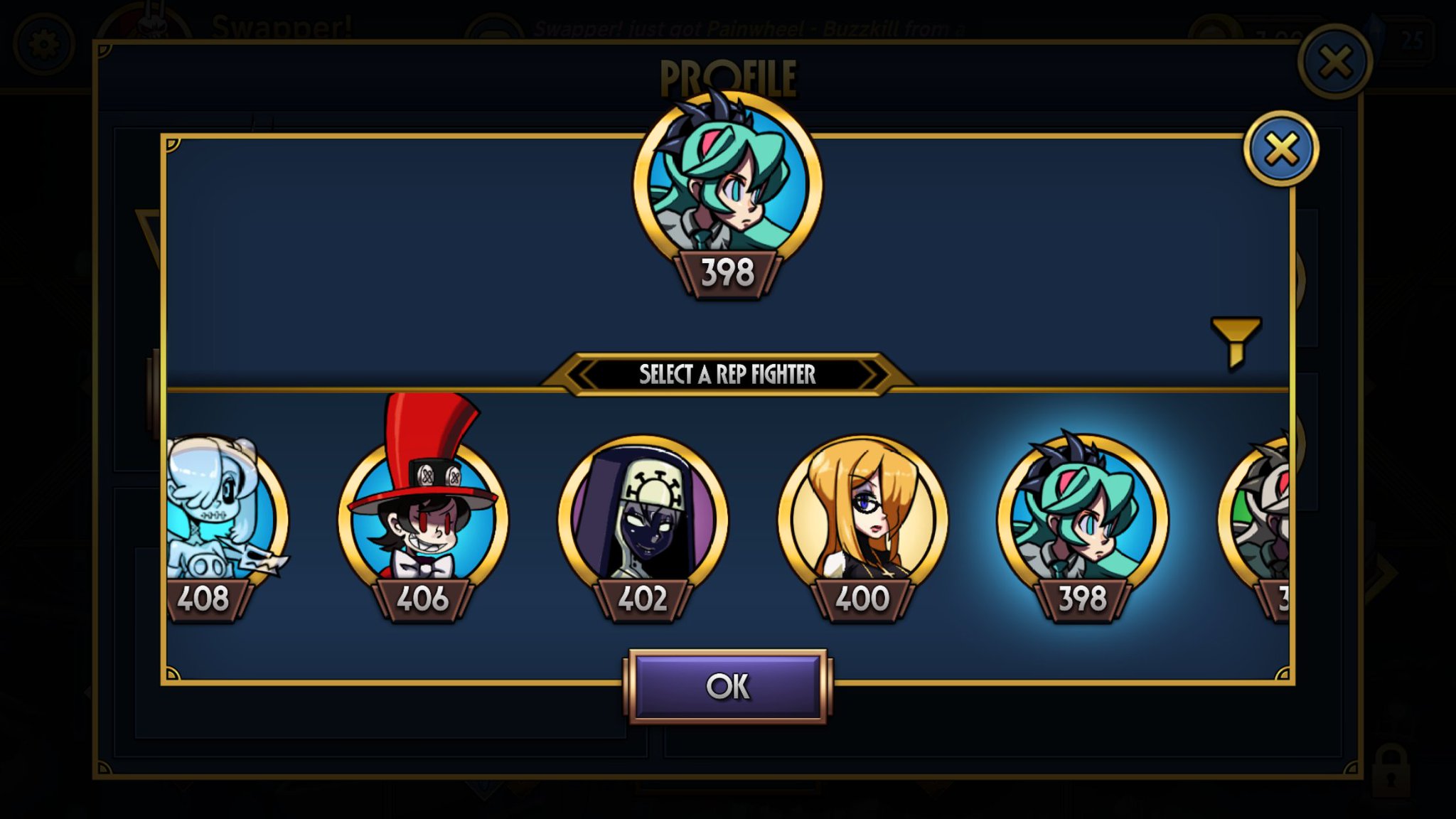 This is the Fighter that other players will fight against when they DUEL you. If you're looking to practice against a specific variant, ask another player in chat to change their avatar Fighter to that variant! It's a great way to get in some practice for zero energy.
7D LOGIN REWARD CALENDAR
Any new players joining us after 2.6 is live will be presented with a new login calendar after logging in. Log in 7 days (non-sequentially) and get your first Silver Fighter right off the bat! Once this calendar is finished, it will not appear again.
For those of you who have been with us for awhile, we know you won't be able to participate in this. Instead, check your mailbox after 2.6 is live for a small appreciation gift from all of us.
♥
ECONOMY CHANGES
Ms. Fortune Relic Availability
As mentioned above, Ms. Fortune can now be found in any Relic that supports random Fighters. That means Premiere Relics, Silver Lining Relics, etc.
Fighter Variety Packs
A new $100 USD Fighter Variety Pack featuring 8x of every Fighter Relic (including Ms. Fortune's Relic) is now available!

As noted before, each Fighter Variety Pack can also be found in the store by all players at the start of 2.6.

Once again, these Fighter Variety Packs DO include Ms. Fortune. If you want to snag her for your collection early before her Prize Fights and Relics are live while also growing your collection, these offers are great value!
Ms. Fortune Moves Pack
A brand new Ms. Fortune Moves offer (featuring 10x Gold Special Moves and 10x Gold Blockbusters) will also be available to all players at the start of 2.6.

This offer can be purchased once per day for each of the next seven days.

If you want to play around with all of Ms. Fortune's Special Moves and Blockbusters ASAP, this offer is for you!
MASSIVE Canopy Coin Sale - DOUBLE THE COINS!
For a limited time, you can get DOUBLE The amount of Canopy Coins for your Theonite in the store!

Now's a great time to level up Moves and upgrade Skill Trees!
Weekly Elemental Offers
Weekly Elemental Offers now feature one full Elemental Essence and 12 Elemental Relics

Elemental Essence Shards ... 100 --> 0
Elemental Relics ... 11 --> 12

FULL ELEMENTAL ESSENCE ... 0 --> 1

Price ... $29.99 --> $49.99
Weekly Egret Recruit Pack
We've adjusted the $10 weekly offer to include 3 Bronze Keys, Premiere Relics, and Canopy Coins every week!

Bronze Keys ... 1 --> 3

Premiere Relics ... 2 --> 3

Canopy Coins ... 50,000 --> 30,000

Theonite ... 200 --> 0
MOVE ADDITIONS AND CHANGES
As we shared previously on our Twitter, Facebook and Instagram page, we'll be adding some new moves to 2.6, and improving some existing ones!
For the full breakdown, just click the link to the appropriate Twitter post.
Parasoul
-
Napalm Trigger
[BRAND NEW]
Parasoul's new "NAPALM TRIGGER" Special Move will instantly detonate all TEARS on the field, which will also activate the effects of her various tear detonation related Signature Abilities.
Valentine
-
Mortuary Drop
[BRAND NEW]
Her new Special Move "MORTUARY DROP" has a % chance to STUN the opponent if she is benefiting from REGEN!
Parasoul
-
Egret Dive
[TUNED - NOW AVAILABLE]
This desperate Egret will ABSORB projectile hits, and STUN anyone who attacks him with a melee hit for a short duration.

Eliza
-
Chaos Banish
[TUNED - NOW AVAILABLE]
Chaos Banish now removes all BUFFS from the opponent and inflicts a lengthy HEAL BLOCK on hit!
Filia
-
French Twist
[TUNED - New Blockbuster cancel windows!]
Filia will be able to cancel the recovery of her FRENCH TWIST Special Move into a Blockbuster. Use this in your combos to quickly rack up stacks of BLEED in no time!

Cerebella
-
Lock N Load
[TUNED - Cannot be interrupted!]
The long start up of "Lock N Load" can no longer be interrupted. Use this move to absorb enemy blows and deliver a powerful counter attack!
For those of you screaming for
Double's BB3 Megalith Array
, it will now also be available to players in the same places you can get other Double moves!
VALENTINE CHARACTER ABILITY - SIPHON
Valentine has a new
Character Ability - "SIPHON"
.
Now, instead of dealing unrecoverable damage (as she does pre 2.6), she will now restore her own red life when attacking her opponents. In addition, she also receives a larger portion of red life when she is hit.
OTHER IMPROVEMENTS
Please note that since we are still working on this update, there will likely be more changes included in this list at a later date.


All Characters
All characters can now activate an attack when they land from enter the screen after their previous ally was killed. Previously, there was a very brief (2F) window where you could only block, but you could not activate a Normal, Special Move, or Blockbuster. It is now always safe to queue an invincible attack to fire as soon as you land!
Parasoul
The hitbox on tear detonation is now much larger and matches the art correctly.

Fixed one instance of the issue where Parasoul's troops would leave early after BB3 activation. If you still experience this bug, please share a recording!
Big Band
L5 (the final hit of his advanced ground combo) is slightly less safe on block.
Resonant Evil - SA2 can no longer fire at the same time SA1 activates. He must have the ARMOR before you attack him in order to STUN.

Fixed an issue where Big Band would sometimes stop blocking and get hit by specific attacks, such as Cerebella's L2.
Cerebella
L5 (the final hit of her advanced ground combo) is slightly less safe on block. It can now be punished by the entire cast.
Fixed missing hit SFX on SM - Battle Butt.
Fixed errant Super Shadows being turned on during SM - Butt Slam.
Eliza
Can now properly cancel L5 into Special Moves.

Will now always face the correct direction when activating a Blockbuster. It should now be impossible to activate BB3 in the wrong direction.

The AI can now defend against her unblockable Charge Attack better when it is used with precise timing.
Peacock
Fixed SM - George at the Airshow vanishing when it moves off camera during a BB activation zoom in.
Fixed BB3 - Deadly Airport killing opponents early. Now only the final plane is capable of killing the opponent.
Double
Rainbow Blight - All Diamond neutral variants are now PINK. Goodbye, Silver Blight...
Fixed an issue where Double's MASTER Daily Event had lower rarity rewards compared to other MASTER Daily Events.
Valentine
Marquee Ability - Trauma Center no longer activates when Valentine is dead.

Valentine's L2 pulls the opponent in on hit, instead of pushing them away.
Squigly
Can no longer cancel her taunt at any time during the animation. She can cancel her taunt when the buff applies like everyone else, and the buff activation happens earlier in the animation now.

The AI can now defend against her unblockable Charge Attack better when it is used with precise timing.

Fixed a bug where STAGE FRIGHT would errantly activate MOMENTO MORI when a projectile was spawned that had zero life.
Painwheel
Increased the hitstop and blockstun on her Launcher, so that it is easier to react to and punish when blocked. The move is also slightly more unsafe than before.

Painwheel's Air Grab (Throw input during Flight Risk) can now be teched just like a regular ground throw.
Moves
Fixed an issue where using a Move while another Move is active would override the damage multiplier values of the previous one.
Fixed an issue where using a Blockbuster as your opponent is standing up after being hit with a Blockbuster would prevent them from taking any action.

Fixed an issue where some characters could backdash with precise timing to avoid a BB3.
That Checkmark Fade In Animation That Plays When You Claim Your Daily Login Reward
It has been given the JUICE. It rotates way more now like a cool skateboard trick. Looks super sick!
Modifiers
EMISSION SPECTRUM (Light Prize Fight)

Now cycles through buffs in a fixed order. It will now be impossible to roll FINAL STAND or INVINCIBLE twice in a row, for example.

DISABLE TAG-INS

Fixed an issue where game could soft lock if a BB3 is waiting for the enemy to stand still, but the enemy is dead, and tag-ins are disabled due to a modifier, so the next enemy never jumps in.
AI
Fixed an issue where the AI was responding to Charge Attacks with Charge Attack counters even when they are on the other side of the stage nowhere near you. The AI should perform desperate escape actions only when they are cornered with nowhere to go.
Node Map
Fixed an issue where the Fighter Score of a node would change between the node map view and fight preview view.
Sprite Rendering
Hopefully (4th time's the charm!) fixed many of the "missingno" sprite issues (corrupted/glitchy characters) players experience on team select, and during combat.
Localization
Fixed missing "UNBLOCKABLE" text on BB3s in Japanese.
Numerous translation issues fixed across multiple languages.
Fixed a few English spelling mistakes in Parasoul's Origin Story.

Fixed an issue where Japanese rules for the chatroom were not displaying correctly.
Chat
Added the ability to MUTE another player. If someone is causing trouble, tap their name, report them, and MUTE them! MUTES will stay in effect until you restart the app.
UI
Several UX issues have been fixed with the new iPhone XS MAX.
That's all for now, but make sure to keep an eye on our
Social Media
for more details on Ms. Fortune's Variants and their Signature Abilities between now and our release date! We're always listening to feedback, so if this update didn't include something that you were looking for, please let us know down below in the comments, or in a separate thread.
Any questions? Leave a comment down below and tag one of us (
@Liam
) and we'll do our best to answer as soon as we can. =)
Thanks again for all your tireless support!

~ Hidden Variable Studios ~


A small preview of what's to come for 2.7 and beyond...
More details to come...
Last edited: