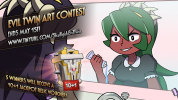 It's been just over a year since Fukua was added to Skullgirls Mobile and we still don't know what exactly Fukua is. Is she Filia's evil sister? Is she a clone? Is she just a bad dream? Is she
canon
?
One thing we do know: Evil Twins are cool!
To celebrate Fukua's anniversary, we're running an art contest all about Evil Twins!
Your task for this contest is to draw an Evil Twin of one of the other Skullgirls characters.

CONTEST RULES:
The theme of this contest is EVIL TWINS. You must choose any character in Skullgirls and draw their Evil Twin.
The focus of your image needs to be someone other than Fukua. You can still include Fukua, but the main focus of this contest is Evil versions of other characters.
Skullgirls Mobile is rated T for Teen, so your contest entries should be the same!
We will be linking to the winners from our Social Media pages, so we cannot accept entries from NSFW Twitter or Instagram accounts.
SUBMISSION DETAILS:
This contest will run from April 5th - May 1st.
To submit entries you need to post your art on Instagram or Twitter and use the hashtag #SkullgirlsEvilTwin .
You can enter as many times as you like, but you can only win once. Make sure all of your entries have the #SkullgirlsEvilTwin hashtag.
PRIZES:
5 winners will receive a 10+1 Jackpot Relic voucher. We'll contact you after the contest to arrange sending the prizes out.
The winning entries will also be featured on our social media accounts.
If you have any questions or need any clarification on any rules, let us know below!